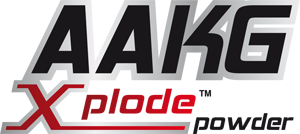 AAKG Xplode
SUPERB FORMULA, MAXIMUM DOSES, FANTASTIC FLAVOUR, BUT FIRST OF ALL FULL-RANGE EFFECTS
THESE ARE DOMAINS OF PRODUCTS FROM THE XPLODE™ SERIES!
Xplode™ is a series of supplements based solely on truly innovative products, designed for those with uncompromising expectations. The unique composition of these supplements is the result of efforts of scientists from the Olimp®laboratories, drawing on the design of each product based on the latest research into the diet and supplementation of athletes and physically active people. Many years of Olimp® experience in the field of supplementation have without any doubt contributed to the success of the most successful athletes from the Olimp Team, who also participated in creating the Xplode™ series. The innovative composition of each product from the Xplode™ series is based solely on the most effective and pharmaceutically pure active substances with proven and documented efficacy. No cheap substitutes!
Xplode™ is a series of products with very high solubility and sensational, intense fruit and aromatic flavours, which you can freely mix and compose your own combination that matches your tastes. The application of maximum micronisation of loose forms is a factor in the perfect absorption of the active substances contained in each product of this unique series.
XPLODE™ - ONLY MAXIMUM EFFICACY
THERE IS NOW ANOTHER ELEMENT FROM THE XPLODE SERIES EXPECTED!
What is AAKG XPLODE powder®?
AAKG XPLODE POWDER™ L-arginine alpha-ketoglutarate (AAKG) in powder, food supplement, especially for sports people. With sweeteners. Orange flavour.
How does AAKG XPLODE powder® work?
L-arginine: The product delivers L-arginine in the well-available L-arginine alpha-ketoglutarate (AAKG) form to the common food pattern. Arginine is essential nutrient, which plays important role in creating active biological nutrients such as nitric oxide (NO).
Advantages of AAKG XPLODE powder®?
powerful dose of L-arginine in the form of completely absorbable L-arginine alfa-ketoglutarane (nearly 4 g per dose),
economy – 1 packaging contains as many as 55 doses - that is 2 months of training
instant absorption due to the loose form. There is no delay typical for tablets or capsules.
complete freedom by dosing. You are no longer limited by fixed doses; you measure precisely the amount of product which you need at a particular moment
complete solubility
remarkable flavour
COMPOSE YOUR OWN PRE-WORKOUT STACK – YOUR OWN BOMB WITH AAKG Xplode powder®!
DIRECTIONS FOR USE
Take 1 portion a day before training or other physical activity. Add 1 portion (8 g of powder – 12 measuring units = 1/3 scoop or 1 flat tablespoon) to 250 ml of water. Consume directly after preparation. Do not exceed the recommended daily dose. Food supplements should not be used as a substitute for a varied and balanced diet. Keep out of reach of children. A varied and balanced diet and a healthy lifestyle are recommended.
Warning: The sediment may occur, which does not affect the quality and effect of the product.